Professor Jerzy Sławomir Wasilewski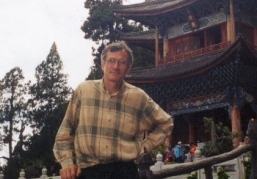 1973 magisterium, praca Kategoria przestrzeni w kulturze koczowniczej
1978 doktorat, rozprawa Rzecz i rytuał. Semiotyczna analiza jurty mongolskiej (promotor - prof. dr Witold Dynowski)
1991 habilitacja, rozprawa Tabu a paradygmaty etnologii
Research interests, in other words, what kind of materials I collect
My current research focuses on issues of globalisation. An ethnologist/anthropologist faces a dilemma here: how to study this overwhelming process without reproducing cliché or banal diagnoses formulated by the great ideologists. My answer is: "look (explore) locally, see (interpret) globally." Following this maxim, I collect materials from various parts of the world (mainly Asia) and construct specific "case studies." Tsukiji fish market, post-Soviet festivals of Siberian reindeer herders, life of Chinese paupers at a dump full of garbage exported from Europe, multicultural carnival in London or Berlin — all those nexuses of globalisation offer the researcher an insight into the variety of lifestyles formed under the influence of elements from another side of the globe.
In my fieldwork and explorations carried out, most willingly, in Central Asia, Siberia and the Far East, I pursue my old interests in traditional symbolic systems (archaic models of the world, shamanism). Today, when those systems have undergone radical disintegration and, furthermore, anthropologists have long announced "the end of the paradigm," one cannot look at them in the old systemic-structural way. Meeting with a man as an agent and an actor in the very context of his culture: this is important, this constitutes the essence of ethnological adventure.
My archive studies should lead to completing two areas of examination, neither one entirely new. Under the keyword "ImPure", I study taboo, magical prohibitions, exclusion and defilement. Meanwhile, "UnSerious" is a whole set of cultural (including anti-cultural) behaviours concentrated around laughing. I am still working on a synthesis, which should show how to ethnologically interpret archaic trickster mythologies, ceremonial clowning and ritual parody; how to look at folk forms of humour visible both in contemporary mass culture and on the peripheries of culture.
Courses
    Seminarium magisterskie
    Seminarium kierunkowe II: Globalne wymiary kultury
    Etnologia Azji
    Going Global! Glamour, Gehenna and Grotesque in a Globalized World
    Translatorium.
Books
    Podróże do piekieł. Rzecz o szamańskich misteriach, Warszawa 1979, 1984.
    Tabu a paradygmaty etnologii (rozprawa habilitacyjna), Warszawa 1991.
    Pasterze renifera mongolskiej tajgi, Warszawa (DiG) w druku.
Articles
    2006 - Smutek Arktyki w masce święta, w szamańskim kostiumie. Etnolog w podróży (6), "Konteksty", t. LX, nr 2 (273), str. 5-14.
    2006 - Strach jakucki — od szamańskiej grozy do wielkomiejskich lęków. Czego boi się Homo postsovieticus (religiosus) w: Horyzonty Antropologii Kultury, Warszawa.
    2006 - Midsummer Night under the Polar Circle. The Yakut Ysyakh-Festival, w: Journeys of Expressions IV: Tourism, Carnival and Folklore, Sheffield.
    2006 - Antropolog kultury wobec człowieka natury, w: Natura — Edukacja — Kultura. Pedagogika źródeł (red. B. Przyborowska), str. 25-40, Toruń.
    2005 - Transgraniczny raj Tyrolu, "National Geographic Traveler", nr spec. 1, s. 60-62.
    2005 - Mont Blanc, "National Geographic Traveler", nr spec. 1, s. 72-75.
    2005 - Is Fear:Festivity as Uncertainty:Freedom? Folk narratives and festivals as mirrors of transformation (the Sakha-Yakut case). Paper presented at the Fifth NECEN Conference on the Anthropology of Post-Socialism, Oslo 22-24 April 2005.
    2004 - Wśród pasterzy reniferów mongolskiej tajgi. Etnologiczny "raport mniejszości", "Uniwersytet Warszawski. Pismo uczelni", nr 1 (17), s. 12-14.
    2004 - Śladami wymyślonej ucieczki. Etnolog w podróży (5), "Konteksty", t. LVIII, nr 3-4, s.75-86.
    2004 - Człowiek niewygasłego wejrzenia, "Konteksty", t. LVIII, nr 3-4, s. 237-8
    2003 - (współautor L. Mróz) Regressing to Nature, Reviving Tradition, Building Ethnicity. A Case of the Reindeer-breeders of the Mongolian Taiga [w:] Between Tradition and Postmodernity. Polish Ethnography at the Turn of the Millennium, ed. L. Mróz, Z. Sokolewicz, Warsaw, s.153-170.
    2003 - Kto komu mówi bonjour na Mont-Blanc? Próba antropologii zachowań zdawkowych, "Konteksty", t. LVII, nr 3-4, s. 165-174.
    2002 - Śmieszny, diabelski, święty. O tricksterskim splocie wątków w postaci św. Piotra, w: Fascynacje folklorystyczne, Księga poświęcona pamięci Heleny Kapełuś, Warszawa, s. 159-164.
    2002 - Konfucjusz przed kamerami, szamanki przy mikrofonie, "Konteksty", t. LVI, nr 1-2, s. 86-93.
    2002 - Ludzie tajgi, ludzie rena, ludzie... "Konteksty", t. LVI, nr 3-4, s. 60-67.
    2001 - Opisywanie Chin, "Konteksty", t. LV, nr 3, s. 172-181.
    2000 - Simple Games, Complex Meanings, w: The Fourth International Conference on Traditional Field Plays, Tokyo.
    2000 - Yagai densho asobi. Koksai kaigi hokokusho, w: The Fourth International Conference on Traditional Field Plays, Tokyo [referat Simple Games, Complex Meanings [w jęz. japońskim]