---
Tomasz Rakowski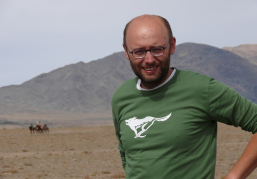 anthropology & social art, phenomenological anthropology, pre-textual ethnography, studies on poverty and social trauma, bottom-up development in Poland and Mongolia.
Tomasz Rakowski [1] (PhD)  is Associate Professor at the Institute of Ethnology and Cultural Anthropology, and Lecturer at the Institute of Polish Culture, University of Warsaw. He is also a medical doctor, specialist in Accident & Emergency medicine.
A Cultural Cyclotron. Ethnography, Art Experiments and a Challenge of Move Toward the Collaborative in Rural Poland in: Experimental Collaborations. Ethnography Through Fieldwork Devices (eds.) T. Sanchez Criado, A. Estalella, New York & Oxford: Berghahn Books, 2018.
Artisans, Alcoholics and Artists: In Search of Descriptions of Experimental Ethnographic Realities,  "Visual Ethnography", 1, 2018, p. 52-65 (co-authored with Ewa Rossal). 
Pre-textual Ethnographies. Challenging the Phenomenological Level of Anthropological Knowledge-Making, Tomasz Rakowski , Helena Patzer (eds.), Canon Pyon: Sean Kingston Publishing 2018.
Hunters, Gatherers, and the Practicioners of Powerlessness. An Ethnography of the Degraded in Postsocialist Poland, New York & Oxford: Berghahn Books, 2016.
Interior Spectacles. The Art of the Informal among Bootleg Miners in Wałbrzych, Poland, in N. Makovicky and D. Henig (eds.). Economies of Favour after Socialism: A Comparative Perspective. Oxford: Oxford University Press, 2016.
Creating Bottom-up Development. A Study of Self-Organization and the Buliding of Fortune-Prosperity among the Torghuts, Southwest Mongolia, "Český lid-The Czech Ethnological Journal", 2016, v. 103, no. 1, pp. 119-134.
Etnografia/animacja/sztuka. Nierozpoznane wymiary rozwoju kulturalnego (Ethnography/Art/Animation. Unmet Dimensions of Cultural Development) (ed.) T. Rakowski, Warszawa: Narodowe Centrum Kultury, 2013.
The Unrelenting Ability to Act. Nigel Rapport's Anthropology of Freedom, in A. Bentkowski and M. Buchowski (eds) Colloquia Anthropologica. Issues in Contemporary Social Anthropology. Poznań: Wydawnictwo Nauka i Innowacje, 2014.
Local Craft, Theory from Abroad: Jacek Olędzki's Phenomenology, in K. Pobłocki (ed.) Worlding Europe – Anthropology at the Crossroads, Special Issue of "Lud" (vol. 96, 2012). WCAA "Dejalu" On-line  Journal, available at: http://www.wcaanet.org/downloads/dejalu/feb_2014/rakowski.pdf
Les Verges Figes. Arboriculteurs et Paysans dans L'impasse Économique, "Ethnologie Francaise", 2010, 2.
Łowcy, zbieracze, praktycy niemocy. Etnografia człowieka zdegradowanego (Hunters, Gatherers, and Practicioners of Powerlessness. An Ethnography of the Degraded in Postsocialist Poland) Gdańsk: słowo obraz/terytoria , 2009. The Józef Tischner Award (Award of the Znak Publishing House), the Jerzy Giedroyc Award (Marie-Curie University of Lublin), and the Award of the Poznań Review of Books. See a review in the Social Anthropology journal, vol. 19, May 2011, p. 230-231) The English-language translation will be published by Berhahn Books, in the series European Anthropology in Translation, 2016.
The Voices of Collapse. Destructive and Self-Destructive Expressions among the Former Miners in Wałbrzych (Southwest Poland), in Luse, A. and I. Lazar (eds) Cosmologies of Suffering. Post-communist Transformation, Sacral Communication, and Healing, Cambridge: Cambridge Scholars Publishing, 2007.
Body and Fate. The Pension as a Practice of Social Remembering, "Anthropological Yearbook of European Cultures", 2007, 1.
Gatherers of Central Poland. A Field Study, "Anthropology Matters On-Line Journal" (2, 2006). available at: http://www.anthropologymatters.com/index.php/anth_matters/ar...
Tomasz conducts fieldwork in Poland and Mongolia. Recently he has led two Polish National Science Centre's grants: 1. "Local Dimensions of Development. A Research on New Forms of Bottom-Up Development and Self-Organization among the Torghuts from Bulgan sum in Western Mongolia" 2. "The Challenges of Creative Ethnography – Working Out of the <<Action Research>> Methodology Able to Perceive Peripheral Creative Activities that Combines Perspectives of Dense Anthropological Research, Community Arts, and Contemporary Art Projects"
---
Source URL: https://www.etnologia.uw.edu.pl/en/about-us/people/academic-and-non-academic/tomasz-rakowski
Links
[1] https://www.etnologia.uw.edu.pl/instytut/ludzie/pracownicy/tomasz-rakowski
[2] http://www.wcaanet.org/downloads/dejalu/feb_2014/rakowski.pdf
[3] http://www.anthropologymatters.com/index.php/anth_matters/article/view/75